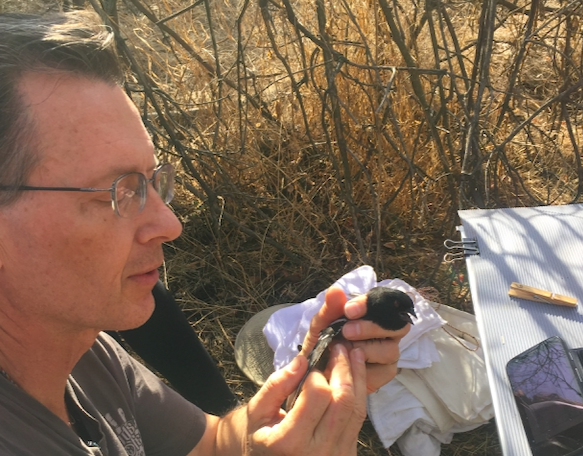 Saturday, May 14, 2022
5:40 AM (or 7 AM) to midday
Trip leader: Mike Morrison
Join us for a demonstration of bird banding in the Marshall Canyon Conservation Corridor in La Verne. Mike Morrison has been banding in this area since 2017; the project is part of a nationwide effort called Monitoring Avian Productivity and Survivorship (MAPS), coordinated by the Institute for Bird Populations. We will open only half of our nets, so that we don't catch too many birds – we may capture a dozen or so birds. You'll see how the birds are captured, banded, measured, and checked for breeding status, and you can hold one. Mike will start before sunrise to open the nets – people are welcome to start when he does. If that's too early for you, he'll be back at the parking area at 7:00 to lead others to the site. The trails are rudimentary but not too steep.
This field trip is limited to 10 people. If you want to attend, email Mike Morrison directly at lavernebirds@gmail.com.
PHOTO: Mike Morrison examines the feathers of a Spotted Towhee at his banding station in La Verne.