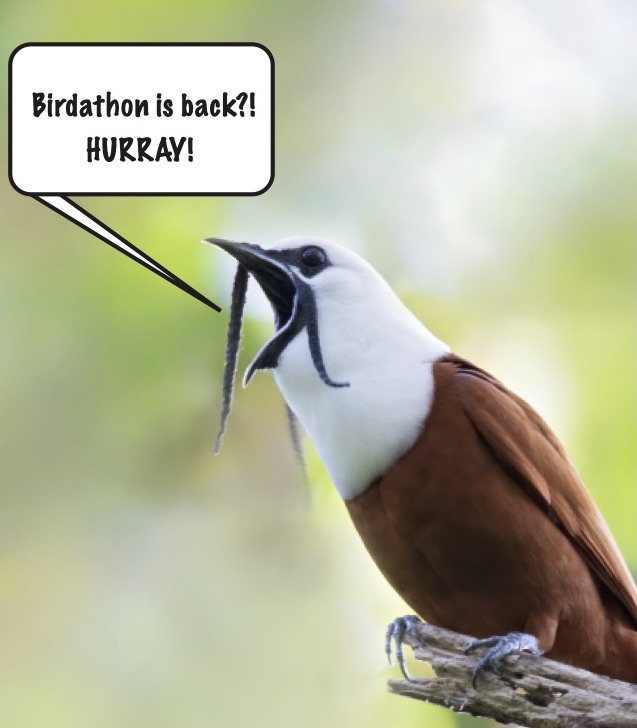 Spring is in the air, the birds are singing, and the Pasadena Audubon Society is restoring Birdathon, one of the grand traditions the pandemic deprived us of last year. Whether you've never heard of it or you're a seasoned veteran, this primer can offer guidance to ensure we have a safe and lucrative event this year.
What exactly is Birdathon?
Birdathon is a fundraiser in which teams collect "per bird species" pledges from their friends, family or anyone who wants to sponsor them. Pledges can be as little as 5 cents a species or as big as the sponsor's bank account will allow. Teams choose a 24­-hour window to go birding and find as many bird species as possible. Sponsors then make donations to PAS based on the number of species found by their team. The team raising the most funds will be honored at the June meeting with a thunderous round of applause and a very birdy prize!
When is Birdathon?
April 23rd, 24th, and 25th. We scheduled this event at the end of April for maximum avian diversity: Some wintering birds haven't left, some summer residents have arrived, and migrants abound. This year there is added incentive to get involved, as Birdathon also coincides with the America's Birdiest County/City competition, a friendly contest to see whose birders can tally the most species in their respective jurisdictions.
How can I participate?
There are two ways. You can:
Form a team: For team registrations email birdathon@pasadenaaudubon.org, and download pledge sheets from our website. Collect pledges and make a birding plan. You might want to bird at a single park, or stay within Pasadena city limits; some teams travel only by foot or bicycle, some count only birds that they photograph. A team can spend as little or as much of the day as they want, from watching backyard feeders for an hour to embarking on a 24­-hour ­long manic quest on a finely ­tuned precision birding route.

Join a team: This option is restricted this year by – what else? – the pandemic. The Big Sit can add two households and Team Safer­at­home has, as the name implies, no limitation (details about the teams below).
I can't form or join a team that weekend, but I want to contribute. How do I pledge?
Pick a team, and email your "per bird species pledge" and contact information to the team leader. They'll be happy to hear from you! After the event, they'll be in touch with their results, and you can make your donation by check or here on the website.
Birdathon Tips for Teams
Sponsors can be anyone: friends, family, co­workers, even your boss. In addition to supporting PAS, sponsors learn about birds and bird habitat. Sponsors who are not birders are often amazed at the number of bird species that can be found here. It's a good idea to give your sponsors an estimate of how many birds you expect to find before they pledge! After Birdathon, send a thank-y­ou note, a species list, and a description of how the day went, including any surprises or amusing anecdotes.
How does PAS use the funds?
Birdathon helps fund many of our exciting programs, including the Bird Science Program in our public elementary schools; grants and scholarships that support important research and send young birders to camps and conferences; conservation initiatives, such as our Peck cleanups, and advocacy for a more bird­-friendly Pasadena.
What about the pandemic? Can we have teams birding together in close proximity?
The pandemic picture is definitely trending in the right direction, but PAS will abide by the local health orders in place on the days of the event. As of April 15, this means that social distancing (6+ foot separation and avoidance of crowds) is still in effect, and masks must be worn over nose and mouth at all times when there is likely to be close approach to others not in the same household. L.A. County limits the number of participants in informal outdoor gatherings to 50 people and recommends limiting the duration. PAS discourages carpooling with people outside one's household at this time. The current L.A. County health order describes some special exceptions for gatherings of fully-vaccinated people.
Let's meet the currently registered teams!
Ladybirders
Ladybirders is an all-women's team, sorry guys. We'll be breaking out into sub-groups this year, per county orders, and starting at Peck Rd where we surprised ourselves with a count of 72 species in 2018! Email Lois Brunet (loisb.pas@gmail.com) if you're interested in joining or pledging.
Team Safer-­at-Home (counting on Sunday April 25)
Any PAS member living in L.A. County is welcome to join, by birding in our safer­-at­-home spaces. With many participants, this will also be an interesting citizen science project studying how migratory birds use residential areas. Email Darren Dowell (dowell.darren@yahoo.com) by April 21 to join, and see team organizational page below.
The Big Sit: Mark Hunter at Legg Lake
Specifics will depend on county rules at the time. Email Mark Hunter (mark.hunter@pasadenaaudubon.org) to join.
Inglorious Bustards
Wrentit Editor Carl Matthies and family will harness the power of ebird to plot out a big day of birding at the hottest hot spots in LA County from the foothills to the sea. Unfortunately, unless health orders are further relaxed, these bustards won't be able to add anyone to our team because of the time restriction. In case things improve, or if you'd like to donate, the email is cfmatthies@yahoo.com.
flutter_twitters
Starting on Saturday with coffee and birdfeeders on our deck. Covering North East Eagle Rock in the morning, then to La Loma in Western Pasadena in the afternoon ending with wine and snacks. Additional walkers are welcome. If interested please text Viveca at 213-700-8932.
Team Christo
Christopher Stevenson, hitting the usual SGV Birding Hot Spots: Whittier Narrows, Santa Fe Dam, Rio Hondo Cr., Peck Rd. Conservation Park, Almansor Park; as many hot spots as I can muster, sunrise to sunset.
How to sponsor a team
Pick a team, and either make a per species donation or a lump sum. You can make your donation online via our donations page.
Or mail a check (and please indicate the team you are supporting) to :
Pasadena Audubon
Attn: Birdathon
1750 N Altadena Dr.
Pasadena, CA
91107
---
Additional information for individual teams...
Team Safer-at-Home: Participant Information
The rest of this page has information for people interested in joining Team Safer-at-Home.
Who can participate in Team Safer-at-Home
This team is open to PAS members living in Los Angeles County. These two conditions are intended to lead to denser coverage of the Pasadena area, with sparser coverage extending to L.A. County boundaries.
To provide some insight to the distribution of the migrants, we'll tally bird in three zones:
* San Gabriel Valley: lying between the San Gabriels, the San Rafael Hills, the Puente Hills, and Chino and San Jose Hills
* coastal slope: defined here as parts of L.A. County south of the "Mountains" -- San Gabriels, Santa Susanas, and Santa Monicas. San Fernando Valley is in this zone, as well as San Gabriel Valley, Malibu, Long Beach, Claremont, etc.
* Los Angeles County: residential areas, according to guidelines below
(updated Apr. 24:) So far, all 23 participants are in San Gabriel Valley and immediate vicinity, covering from San Rafael Hills/La Canada on the west to Arcadia on the east, and from Altadena/Sierra Madre on the north to Echo Park and southern Pasadena on the south. So it looks like we'll all be counting in this one priority zone.
What day is Team Safer-at-Home counting?
We'll be counting on Sunday April 25. The count runs for 24 hours, so we'll start listening for nocturnal species on Saturday evening.
Where are we counting for Team Safer-at-Home
Birds should be counted only from our "Safer-at-Home" spaces. Although late April 2021 finds many of us extra eager to get away from home, this team is composed of members keeping very local. Why?
1) Some of us are still awaiting post-pandemic conditions before venturing out.
2) We now have unprecedented familiarity with where birds can found in our home environments.
3) It will be quite interesting to see how many migrants occupy yards, street trees, and residential airspace.
We should be counting in areas characterized as "residential". For many of us, our Safer-at-Home space has been a front or back yard, or a courtyard. For others, it's been a few trees or bushes, or perhaps a pocket park, just down the street. But please don't, say, walk from your home to Eaton Canyon and start looking for birds there. If anyone claims a visual detection of Wrentit for this team, I will be very skeptical! But a few of you may be able to hear one from your residence, and we would count it.
(updated Apr. 17:) By request of several team members, coverage for Team Safer-at-Home may include the walks that you've been doing through your neighborhood during the pandemic -- including (sub)urban parks on the way -- as long as the bird survey area is surrounded by residences on all sides. Please, no driving to get to sites. And please stay safe!
What are we counting
We are counting free-flying birds likely to have hatched in the wild. The includes all the "wild", native birds and includes several of the local exotics like Peafowl, Parrots, Munia, etc. Birds likely to have spent part of their life in a cage (e.g., Cockatiel) do not count.
We'll count all species seen or heard clearly, even if it's outside the home property boundary. Distant flyovers count, as long as the bird can be identified.
We are counting by species. Whether we see 1 Pine Siskin or 100, it still counts as 1 species. But note that three species lists will be kept for the three counting zones.
How to contribute to Team Safer-at-Home
Team participants do not need to commit to counting all day. Even an hour at peak activity can be very helpful to the team. eBird is the preferred tool for keeping track of the birds that you see, and participants using eBird should send the web link or checklist number to Darren. (Please do not use the eBird "Share" feature to send the checklist.) As an alternative, you can send an email with a simple list of the species that you saw. We are looking for species count, and I won't be adding up the total number of birds detected.
For more information, contact team organizer Darren Dowell: dowell.darren @ yahoo.com
Oh yeah... this is a Birdathon
This is also a fundraiser for PAS programs, so please consider asking for sponsorship of our team -- or become both a participant and a sponsor. See the information above for how to sponsor a Birdathon team. Thanks!
Tally Sheet for Team Safer-at-Home
Count day for Team Safer-at-Home is: April 25. (Start listening for nocturnal species around 8 PM on April 24.)
The target list and tally sheet below will show the birds we've detected. I hope to update the sheet in the middle of count day to show what we've found so far.
| Species | San Gabriel Valley | | | notes |
| --- | --- | --- | --- | --- |
| Canada Goose | X | | | |
| Mallard | 1 | | | Sierra Madre retaining ponds, H. Carbone |
| Common Merganser | 1 | | | Pasadena flyover, D. Dowell |
| California Quail | X | | | Altadena, B. Crill |
| Indian Peafowl | X | | | Altadena, B. Crill, C. Hamilton |
| Rock Pigeon | X | | | |
| Band-tailed Pigeon | X | | | |
| Eurasian Collared-Dove | X | | | |
| Mourning Dove | X | | | |
| Vaux's Swift | X | | | |
| White-throated Swift | X | | | |
| Black-chinned Hummingbird | X | | | |
| Anna's Hummingbird | X | | | |
| Rufous Hummingbird | 2 | | | Pasadena, D. Dowel, L. Solomon |
| Allen's Hummingbird | X | | | |
| Killdeer | 2 | | | Sierra Madre retaining ponds, H. Carbone |
| Great Blue Heron | 1 | | | Elysian Park, S. Horton |
| Snowy Egret | 4 | | | Arcadia flyover, J. Hwa |
| Turkey Vulture | X | | | |
| Cooper's Hawk | X | | | |
| Red-shouldered Hawk | X | | | |
| Swainson's Hawk | 4 | | | Pasadena, A. Sivakumar, D. Dowell, L. Solomon; Altadena, J. Feenstra |
| Red-tailed Hawk | X | | | |
| Barn Owl | 1 | | | Altadena, C. Hamilton |
| Western Screech-Owl | 1 | | | Sierra Madre, K. White |
| Great-horned Owl | X | | | Altadena, Sierra Madre, Arcadia, Echo Park |
| Acorn Woodpecker | X | | | |
| Downy Woodpecker | X | | | |
| Nuttall's Woodpecker | X | | | |
| American Kestrel | 1 | | | Sierra Madre, H. Carbone |
| Merlin | 1 | | | Pasadena, Y. Lee |
| Peregrine Falcon | 1 | | | Sierra Madre, K. White |
| Yellow-chevroned Parakeet | X | | | |
| Red-crowned Parrott | X | | | |
| Lilac-crowned Parrot | X | | | |
| Red-lored Parrot | X | | | |
| Yellow-headed Parrott | X | | | |
| Mitred Parakeet | X | | | (Arcadia) |
| Red-masked Parakeet | X | | | (Pasadena) |
| Western Wood-Pewee | 2 | | | Arcadia, J. Hwa; Altadena, C. Hamilton |
| Hammond's Flycatcher | 2 | | | Pasadena, A. Sivakumar; Altadena, J. Feenstra |
| Pacific-slope Flycatcher | X | | | |
| Black Phoebe | X | | | |
| Vermilion Flycatcher | 2 | | | Victory Park, Y. Lee |
| Ash-throated Flycatcher | 2 | | | Arcadia, J. Hwa |
| Cassin's Kingbird | X | | | |
| Western Kingbird | X | | | |
| Hutton's Vireo | 1 | | | Altadena, C. Hamilton |
| Warbling Vireo | X | | | |
| California Scrub-Jay | X | | | |
| American Crow | X | | | |
| Common Raven | X | | | |
| Mountain Chickadee | X | | | |
| Oak Titmouse | X | | | |
| Northern Rough-winged Swallow | X | | | |
| Barn Swallow | X | | | |
| Cliff Swallow | X | | | |
| Red-whiskered Bulbul | X | | | |
| Bushtit | X | | | |
| Wrentit | X | | | Sierra Madre, K. White, H. Carbone |
| Ruby-crowned Kinglet | 1 | | | Sierra Madre, K. White |
| White-breasted Nuthatch | 1 | | | Altadena, C. Hamilton |
| Blue-Gray Gnatcatcher | 1 | | | Sierra Madre, K. White |
| Canyon Wren | 1 | | | Sierra Madra, K. White, H. Carbone |
| House Wren | X | | | |
| Bewick's Wren | X | | | |
| European Starling | X | | | |
| Northern Mockingbird | X | | | |
| Western Bluebird | X | | | |
| Swainson's Thrush | 1 | | | Pasadena, D. Dowell; second Catharus sp. in Sierra Madre |
| American Robin | X | | | |
| Cedar Waxwing | X | | | |
| Phainopepla | X | | | Elysian Park, S. Horton |
| Scaly-breasted Munia | X | | | Sierra Madre, H. Carbone; Altadena, M. Kwan |
| House Sparrow | X | | | |
| House Finch | X | | | |
| Purple Finch | X | | | Altadena, C. Hamilton |
| Pine Siskin | X | | | |
| Lesser Goldfinch | X | | | |
| Chipping Sparrow | 3 | | | Victory Park, Y. Lee |
| Dark-eyed Junco | X | | | |
| White-crowned Sparrow | X | | | |
| Savannah Sparrow | 1 | | | Victory Park, Y. Lee |
| Song Sparrow | 2 | | | Sierra Madre retaining ponds, H. Carbone |
| California Towhee | X | | | |
| Spotted Towhee | X | | | |
| Hooded Oriole | X | | | |
| Bullock's Oriole | X | | | |
| Red-winged Blackbird | 1 | | | Sierra Madre retaining ponds, H. Carbone |
| Brown-headed Cowbird | X | | | |
| Brewer's Blackbird | X | | | Victory Park, Y. Lee |
| Orange-crowned Warbler | X | | | |
| Nashville Warbler | X | | | |
| Yellow Warbler | X | | | |
| Yellow-rumped Warbler | X | | | |
| Black-throated Gray Warbler | X | | | |
| Townsend's Warbler | X | | | |
| Hermit Warbler | X | | | Echo Park, S. Horton; Altadena, C. Hamilton |
| Wilson's Warbler | X | | | |
| Western Tanager | X | | | |
| Black-headed Grosbeak | X | | | |
| Lazuli Bunting | X | | | |
| | ====== | | | |
| TOTAL | 102 ! | | | |
Team Safer-at-Home participants: Emily Allen, Judy Bass, David Bell, Hannah Dvorak Carbone, Brendan Crill, Darren Dowell, Jerry Ewing, Beth Fabinsky, J. Feenstra, Marsha Fowler, Catherine Hamilton, Sue Horton, Judi Hwa, Mei Kwan, Yonghee Lee, Jim Margitan, Anita Sohus, Ashwin Sivakumar, Sam Sivakumar, Laura Solomon, Luke Tiller, Neal Turner, Karina White