Get ready to have a new best friend for all your birding trips! This fall Pasadena Audubon is releasing the Birding Guide to the Greater Pasadena Area!! This long-awaited, brand-new edition of The Birding Guide is authored by PAS members and board members, and will provide the latest detailed information on 30 great birding spots across Pasadena and the greater San Gabriel Valley.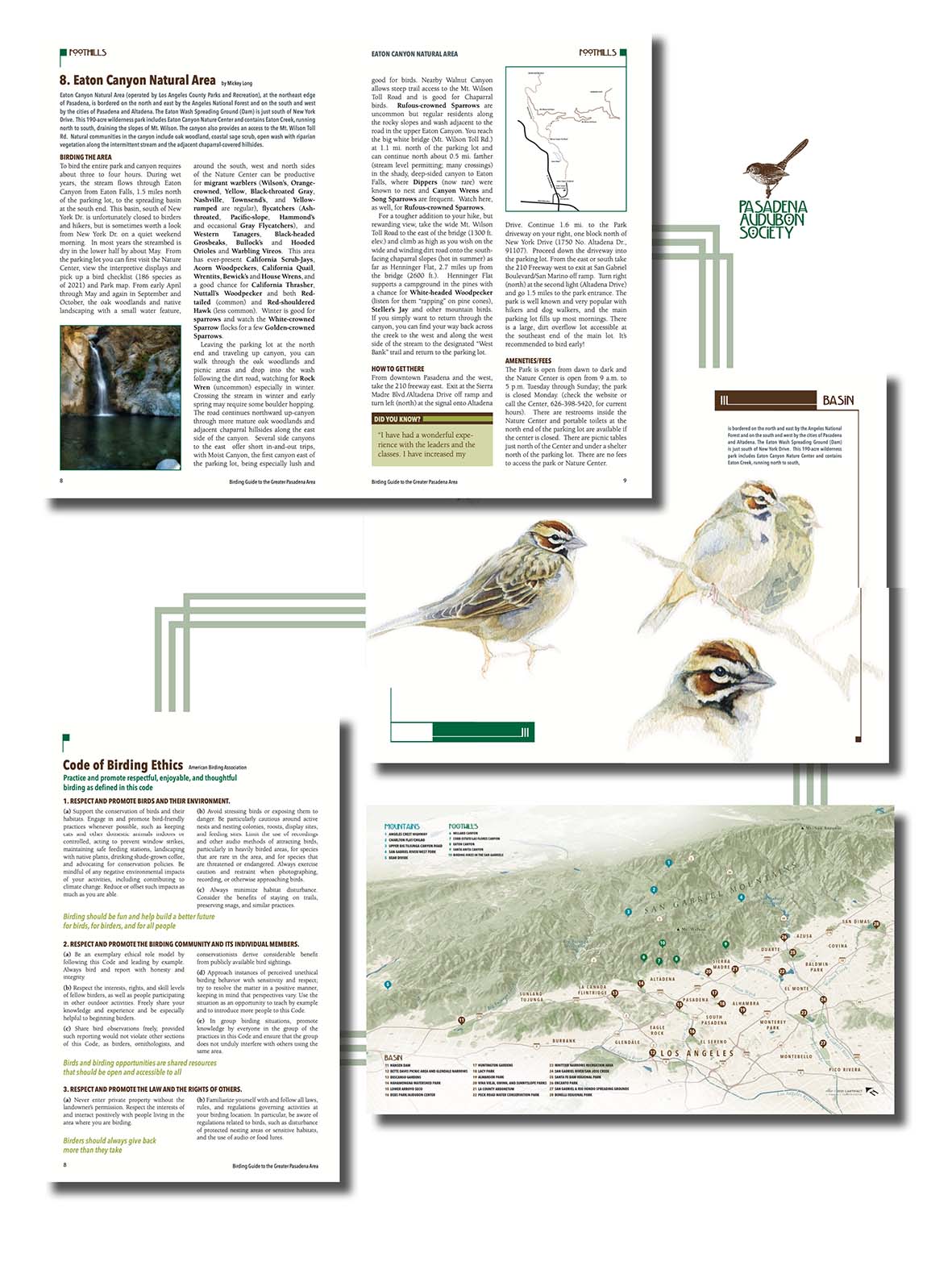 The Birding Guide to the Greater Pasadena Area features...
• 30 detailed accounts of local birding areas written by members with intimate knowledge of choice locations and the birds that can be found there.
• New introductory materials that provide an overview of Pasadena's unique geography, climate, flora and fauna, and conservation concerns.
• Illustrations by renowned artist and life-long Pasadena Audubon member, Catherine Hamilton.
• Full-color map of the Pasadena-area emphasizing watershed features and habitats.
PAS is self-publishing The Birding Guide. PAS will donate 20% of the copies to schools, libraries, clubs, etc., and sell the remainder through retail outlets and online. The proceeds of the sales will fund our educational programs such as the Bird Science Program, Pasadena Audubon Grants program and the Schoolyard Habitat Garden program.
Our goal is to raise $20,000 to fund copies in two editions, Spanish and English. PAS has raised a portion of the fundraising goal from organizations such as Theodore Payne Foundation, Eaton Canyon Nature Center Associates, corporations like Celestron, and other private foundations.
UPDATE: We've reached and surpassed our sponsorship goal for the Guide, with $26,250. Thanks so much to all of our sponsors who have made possible this exciting project!! View our sponsors page here.