Pasadena Audubon Society's Street Tree Plan
Planet earth is witnessing a biodiversity crisis with shrinking populations of wild birds and other forms of life, caused by overdevelopment and habitat loss. Pasadena Audubon Society believes that we can restore wildlife habitats even in urban areas by expanding the prevalence of native species throughout the city. While Pasadena has a beautiful urban forest, many of the trees are exotic ornamental species that do not support local ecosystems. To address this issue, we are asking the city to plant street trees with recognized habitat value.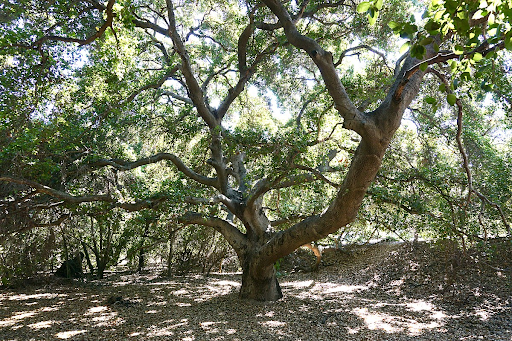 Caption: The Coast Live Oak is a cornerstone species in our area and is host to 350+ species of insects. That's a lot of bird food! Photo credit: ArtemesiaTridentat (Wikimedia Commons)
Pasadena Audubon has commissioned a study of the Pasadena Master Street Tree Plan in 2020 and created lists of recommended species and species to avoid, with habitat value in mind.
Please 1) review our letter of support, and 2) add your signature by clicking the button below, so that we can bring this to City officials with a wide show of community support!
Tree Planting in Action
Pasadena Audubon collaborated with a local refill store, My Zero Waste Store, and received a $1,000 grant from California Clean Air Day to plant trees in Pasadena. On October 5th, 2022, we planted 15 new native trees, Western Redbud and Coast Live Oak on Cypress and Orange Grove in District 3. The remaining funds helped purchase additional trees for the New Horizon School near the Cypress Avenue planting. These trees will help cleanse the air for the students and the residents near the 210 freeway, cool the streets, and support biodiversity by hosting beneficial insects for our birds.
Resources