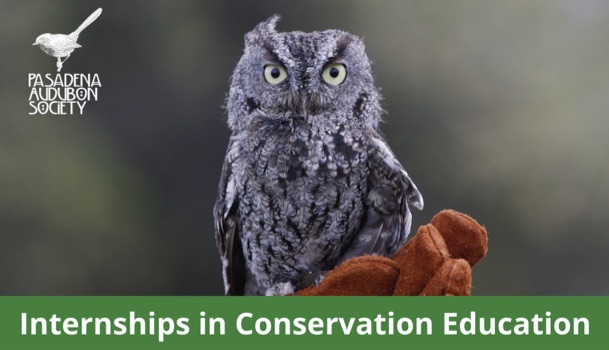 Pasadena Audubon's Bird Science Program incorporates hands-on outdoor activities and live educational owls to bring the excitement of birds to school children in our community. We are looking for enthusiastic educators to assist us as we guide elementary school kids on field trips to discover birds and the ecosystem.
Interns will assist in teaching in-class lessons, guiding outdoor nature walks, and handling live educational birds. No prior experience with birds is needed. An interest in conservation education is highly desirable. People of diverse backgrounds are encouraged to apply. This is a great opportunity to gain leadership skills and experience in outdoor education.
Training will be provided through a 15-hour program:
Five classes on Thursdays from 9 am to noon, starting September 8, 2022.
You will learn the Bird Science Program curriculum through hands-on activities. Classes will also cover:
- an introduction to local birds and birding
- lessons on birds and botany
- how to safely handle educational owls.
Classes will be at the Eaton Canyon Nature Center and at Peck Road Park in Arcadia.
A scholarship of $800 will be awarded to interns who complete 50 hours between September 2022 and May 2023 and develop a final project. Letters of reference may also be provided.
Must be over 18, willing to take a TB test, and legally able to work with children.
To apply, send a cover letter and resume to Pasadena Audubon Program Director, Lois Brunet at LoisB.PAS@gmail.com.